This post was written by me on behalf of Global Influence. All opinions are my own.
It wasn't until I became a mom that I realized that I didn't have to look "perfect" all the time. When you have a baby that requires all of your attention, you realize that there are more important things to worry about than spending hours in front of the mirror trying to get your makeup and hair just right. Coming from someone who has always been scared to go in public without mascara on, it's empowering to know that I don't need makeup to look and feel beautiful.
I especially feel the need to be a good role model to my twin girls. Already at four years old, they make comments about being "fat" or wanting to wear makeup to look "pretty." They are too young to be worried about all that, so I try to reinforce that beauty comes from within and that they don't need to be worrying about makeup until they are much older. As moms, I think it is so important to teach our daughters at an early age that everyone is beautiful and that real beauty radiates from the inside out.
Dove and Walgreens are committed to building positive self-esteem and inspiring women to reach their full potential. They want to encourage women everywhere to inspire each other — to lift each other up and embrace the idea that beauty comes in all shapes and sizes. This could be as simple as sending a card to a special girl in your life or teaching about healthy self-esteem at a local school.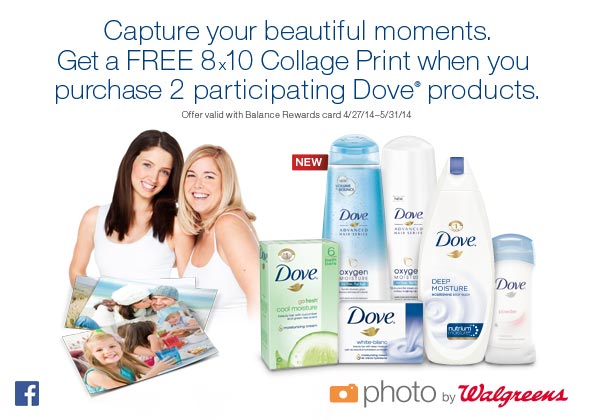 Now through the end of May, purchase 2 participating Dove products at Walgreens and receive a promo code on your receipt to redeem a FREE 8×10 collage print! Just make sure you to present your Balance Rewards card at the time of purchase.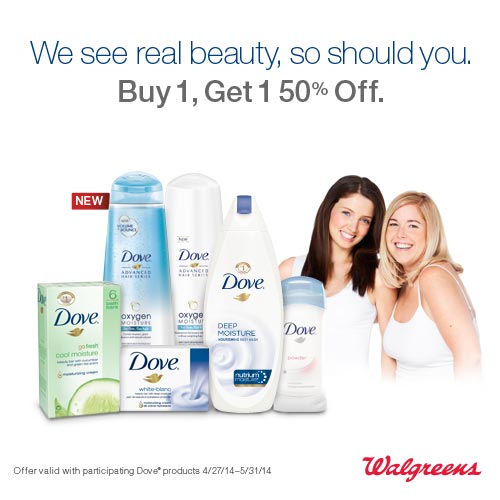 In addition, all Dove products are Buy One, Get One 50% off at Walgreens through the end of the month. Now would be a great time to stock up on all of your favorite Dove products!