I participated in an Influencer Activation on behalf of Mom Central Consulting for Teavana. I received samples for this review and a promotional item to thank me for participating.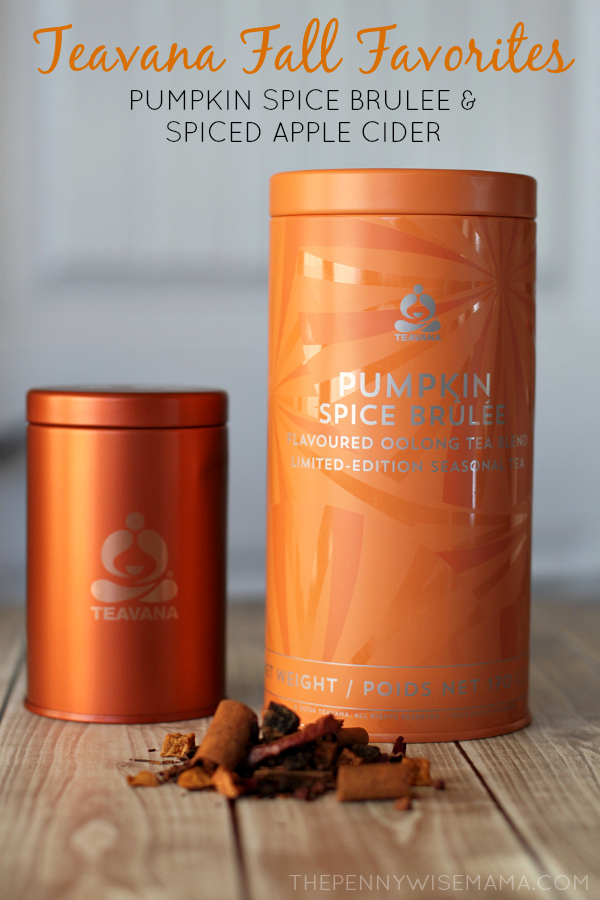 There's just something about tea that is soothing. Every afternoon, I lay my twin girls down for naps and then I make a cup of tea. Not only is it a nice pick-me-up, it's calming and helps clear my mind so that I can write. I enjoy trying new teas, so I was excited when I was given the opportunity to try Teavana's fall seasonal teas — Pumpkin Spice Brulee and Spice Apple Cider. I've been obsessed with all things pumpkin, so I was especially excited to try the Pumpkin Spice Brulee.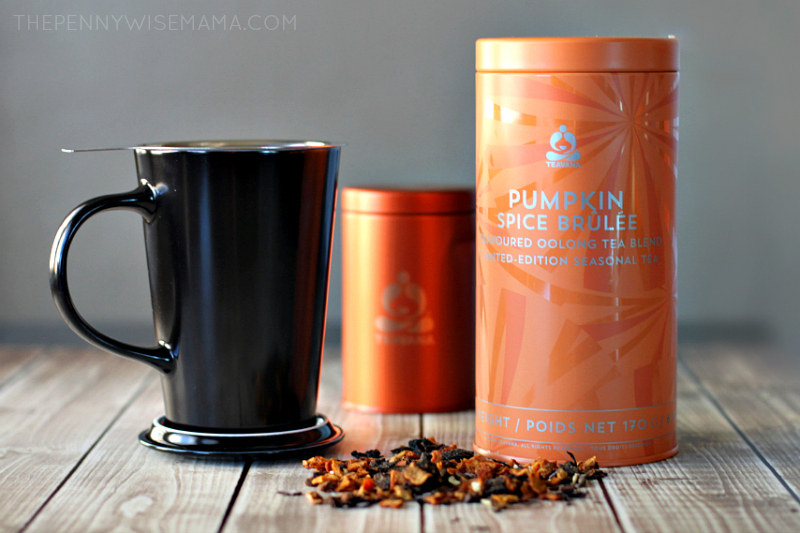 The Teavana Pumpkin Spice Brulee is an oolong tea that contains a balanced swirl of rich pumpkin and flavors of caramel, toffee, butterscotch, and creamy vanilla. It's rich and smooth and makes me feel like I am indulging on a delicious pumpkin treat. Even though this is the perfect tea for a crisp autumn day, I could see myself drinking it year-round. I am obsessed!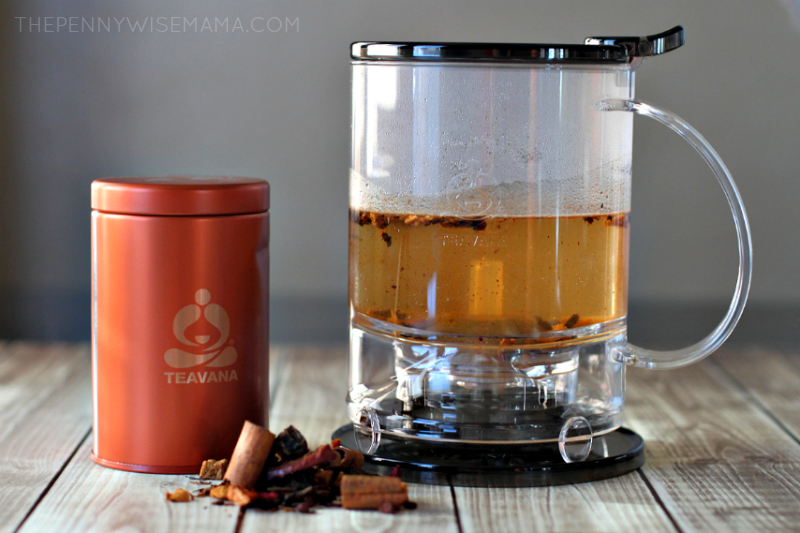 Normally I am not a huge apple cider fan, but I love the Teavana Spiced Apple Cider. It's a rooibos tea that contains crisp apple and juicy plum that blend temptingly with cinnamon, chicory and sweet carob. This tea is full of flavor really captures the essence of hot apple cider. Drinking it brings back childhood memories of visiting the pumpkin farm and going on hay rides.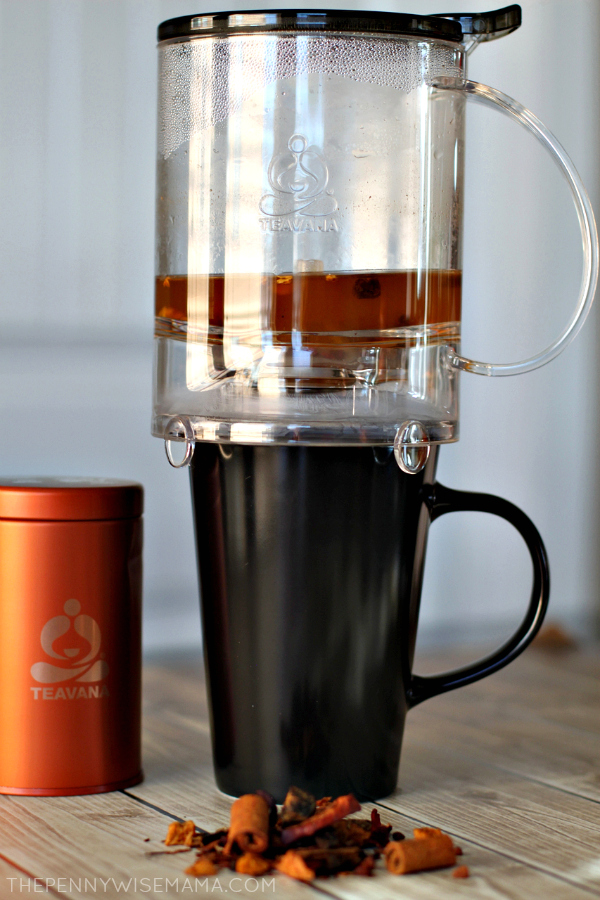 I first fell in love with Teavana tea earlier this year when I tried the Teavana Oprah Chai Tea. I loved the rich, full flavor and have come to really enjoy making loose leaf tea. Teavana has a variety of products to make brewing loose leaf tea a simple process. I have both the Angle Infuser Mug and the PerfecTea Maker. Both are really easy to use. The Angle Infuser Mug allows you to brew your tea right in your cup (pictured above with the Pumpkin Spice Brulee tin). The PerfecTea Maker is a large clear brewing chamber that can brew up to 16 oz of tea. You simply pour in your tea and water and let it steep. When it's done, you place the chamber over your mug and the tea automatically pours in.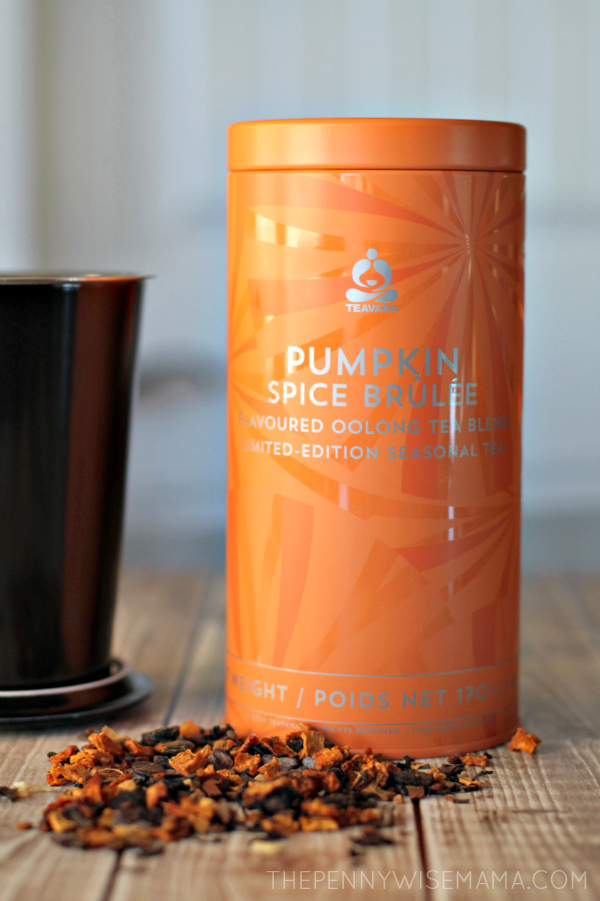 I had never tried loose leaf tea until I had the opportunity to try Teavana. The idea of brewing loose leaf tea always intimidated me, but now that I know how easy it is to make, I actually prefer it over tea bags. The flavors are much more robust and smooth and it's also more fun to make. I love making a cup and sipping on it while I enjoy some free time alone!
Teavana's Pumpkin Spice Brulee and Spiced Apple Cider are a great way to spice up fall occasions. Serve the teas to guests at your next gathering, share with friends and family for a special moment together or bring the teas to your next fall activity (visiting the pumpkin patch or trick-or-treating with the kids) in Teavana's Contour Tumbler. You can actually brew tea with it on the go!
Pumpkin Spice Brulee and Spiced Apple Cider are available this fall in Teavana stores, Teavana Fine Teas + Tea Bars and Teavana.com.
Teavana Promo Code
Now is the perfect time to try the Teavana fall favorites! Use promo code Prudent10off30 at Teavana.com to receive $10 off a purchase of $30 or more through 10/31.
Have you tried Teavana tea? Which flavor is your favorite?