I participated in an Influencer Activation on behalf of Mom Central Consulting for Vitafusion. I received a product sample to facilitate my review and promotional item to thank me for participating.
When I was growing up, my dad always made me take vitamins. I hated taking them. They tasted gross and the big pills always made me gag. Once I moved out on my own, I stopped taking them thinking that it didn't really matter because I was young and healthy. Then I became a teacher and found myself getting sick all the time from all the germs I was exposed to. So I swallowed my pride and started taking vitamins again. And what do you know? My health significantly improved!
I have now gotten into the routine of taking my vitamins every night before I go to bed. It is an important part of my day, because I know that they help keep me healthy. My husband on the otherhand refuses to take them. He hates taking any kind of medicine or pills, so when we had the opportunity to try out Vitafusion MultiVites PLUS gummy vitamins for adults I was super excited. I figured it would be a great way for my husband to start taking vitamins and for me to actually enjoy taking them!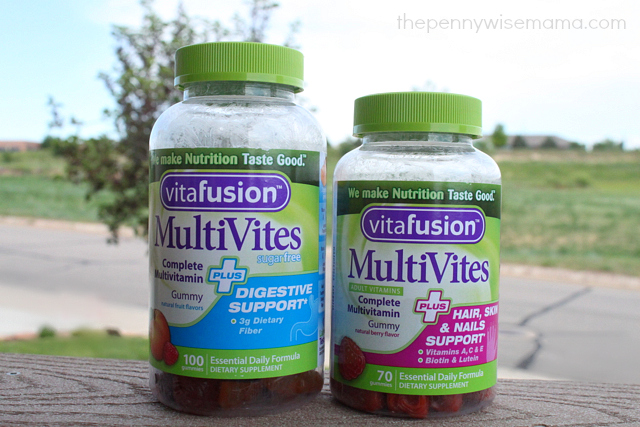 Vitafusion recently came out with the Vitafusion PLUS line that is designed to support overall wellbeing while focusing on specific health areas such as hair, skin and nails, digestive, immune and heart support. We were sent two different kinds to try out — Vitafusion MultiVites PLUS Digestive Support and Vitafusion MultiVites PLUS Hair, Skin & Nails Support.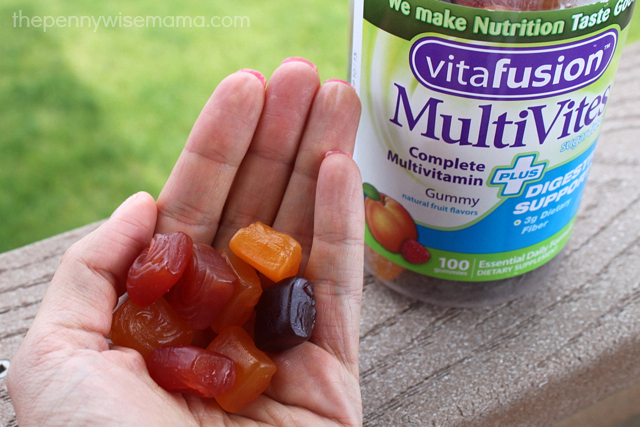 My husband and I have been taking our new gummy vitamins for a couple of weeks now and we really like them. Both varieties taste great and are easy to chew. I have actually had a hard time picking which ones to take each day, because they both target what I want to work on. For now I am just alternating which ones I take, but eventually I will probably just stick with the digestive support variety since that's what I need help with the most.
Vitafusion MultiVites PLUS gummy vitamins have been easy to implement into our daily routine. They definitely make taking vitamins a lot more enjoyable and it's great to know that they are providing us with the vitamins and minerals that we need to be healthy. We will definitely continue to use them, especially since it's the only vitamins my husband approves of!
Have you made taking vitamins an important part of your daily routine?
This post may contain affiliate links. As an Amazon Associate, I earn from qualifying purchases. Read my full disclosure here.