I received a Target gift card to purchase LISTERINE® Brand products from Johnson & Johnson Healthcare Products Division of McNEIL-PPC, Inc. and The Motherhood as part of my participation in the LISTERINE® 21-Day Challenge. All thoughts and opinions expressed in this post are my own.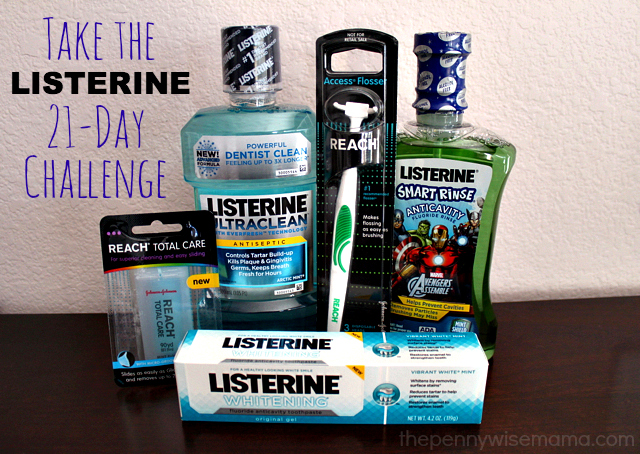 A few weeks ago I shared how my family was participating in the Listerine 21-Day Challenge. In case you missed it, the challenge is all about changing your current oral care routine for 21 days to see how much healthier your gums and teeth are at the end of it. It involves brushing, flossing and rinsing with LISTERINE® Antiseptic twice a day for 21 days. My family gladly took on the challenge and I am proud to say that WE DID IT!
Let me start by saying that it's always hard to switch up your routine. I am a creature of habit. I do the same routine just about every day. My oral habits are no different. I always brush my teeth after breakfast and again before bed. Before the challenge, I only flossed at night and rarely used an antiseptic rinse. The challenge took my routine to the next level by asking me to floss and use the Listerine Antiseptic in the morning as well. This was hard to get used to at first, but once I did it a few days in a row it became a habit!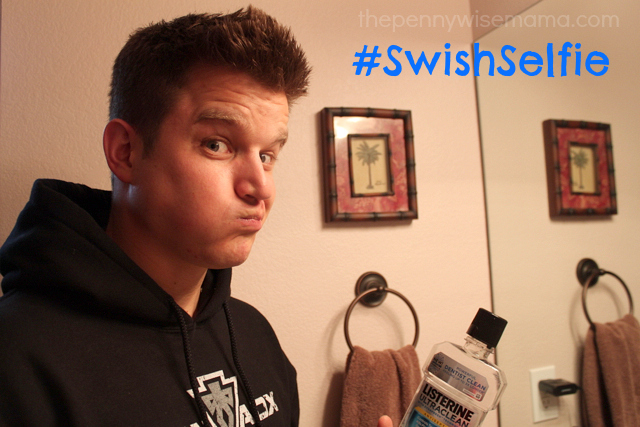 My husband and son did much better with the challenge than I thought they would. If you read my previous post, you may remember that these two absolutely hate flossing. I didn't quite get them in the habit of doing it twice a day, but I did get them to do it before bed. This is a huge accomplishment for them! With more persistence and encouragement, I think I can get them to do it twice a day before long. I was most proud that my husband used the antiseptic rinse twice a day without me even having to remind him!
After 21 days of the challenge, I definitely notice a difference in the feel and appearance of my mouth. My teeth look whiter and my mouth feels cleaner. I also don't have any plaque build-up along my gum lines. Before the challenge, I would brush my teeth and afterwards I would still see plaque. I think the Listerine Antiseptic has definitely helped with that.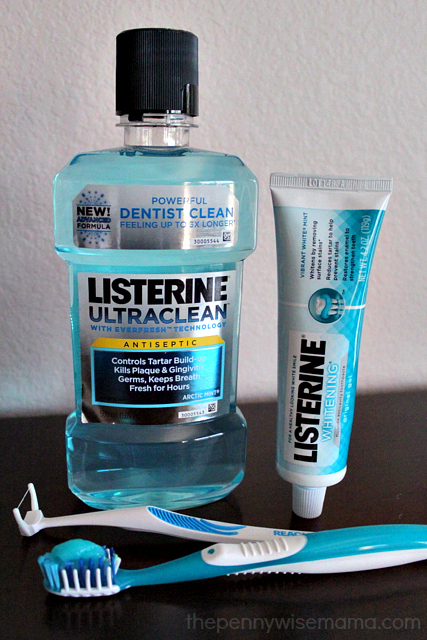 Overall, I think we all agree that our favorite product is the Listerine Antiseptic/Smart Rinse. My husband and son look forward to using it, while I have more of a love-hate relationship with it. While using it, I feel like my mouth is on fire (not so great of a feeling), but afterwards my teeth and gums feel so clean. It is very strong, but seems to really get the job done!
Fostering good oral habits is so important. It may seem time consuming, but the truth is it only takes an extra minute to floss and rinse with an antiseptic after brushing your teeth. According to research, it only takes 21 days to create a habit, so try it out and stick with it! I have found that I am most successful when I keep all of the products together on the bathroom counter as a visual reminder. To get kids in the habit, it works great to reward them with a sticker chart or other incentive. Kids learn from example, so as parents it's our job to show them good habits!
Take the Listerine 21-Day Challenge
If you haven't already, I hope that you will take the challenge to improve your own oral health care! As an added incentive, for every person who posts a "Swish Selfie" to LISTERINE® Brand's Facebook page, LISTERINE® Brand will make a $5.00 contribution to Oral Health America's Smiles Across America® program, up to $85,000, toward their goal of connecting 210,000 children with needed oral health services in 2014.