All three of my kiddos have had sensitive skin since they were born. We have to be careful about the bath and body products they use or their skin becomes dry, itchy, and/or irritable. I have found that using products that are natural or organic make a huge difference. I am all for using products that are naturally based without all of the chemicals anyway, so I would buy the products whether or not my kids had sensitive skin.
Over the past few years, I have been searching for products that are not only safe for sensitive skin, but also effective. I have always wanted to try Nature's Baby Organics, so when I was given the opportunity to review a collection of their products I was more than happy to put them to the test.

Nature's Baby Organics produces a full line of organic, NSF certified and natural bath and body products for babies and children. The products were developed by a mother whose concern for her children resulted in a pure, natural, chemical-free line of personal care products with no compromises; gentle enough for babies, yet beneficial for older children, and even mom and dad. For centuries, wholesome, natural plants such as aloe vera, lavender, chamomile, shea butter, and others have been prized for their healing and comforting properties. These are the kind of quality ingredients which go into Nature's Baby Organic products.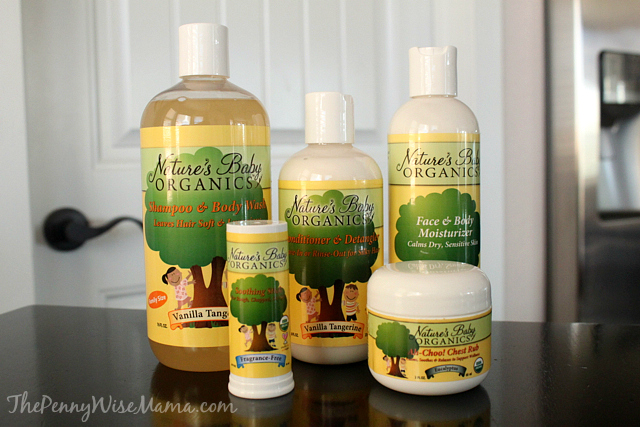 Nature's Baby Organics sent me (1) 16 oz. Shampoo & Body Wash Vanilla Tangerine, (1) 8 oz. Conditioner & Detangler Vanilla Tangerine, (1) 8 oz. Face & Body Moisturizer Fragrance Free, (1) .63 oz. Soothing Stick Fragrance Free, and (1) 2 oz. Ah-Choo! Chest Rub Eucalyptus. I was instantly drawn to the warm and inviting packaging and I couldn't wait to try them out on my four-year-old twin girls.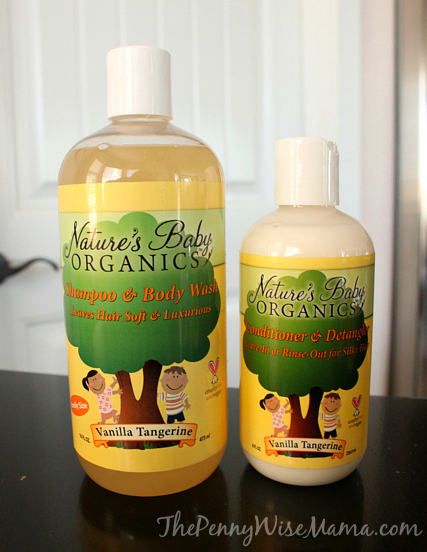 The Nature's Baby Organics Shampoo & Body Wash lathers and suds up well. You don't need to use a lot, which is great. The Vanilla Tangerine scent is light and sweet, kind of like an orange creamsicle. In my opinion, a lot of shampoo & body wash combos don't seem to work very well for hair, but the Nature's Baby Organics combo leaves hair and skin feeling soft without drying them out.
The Conditioner & Detangler is thin and easy to apply. The Vanilla Tangerine scent matches the Shampoo & Body Wash. The product works well as a leave-in conditioner/detangler, but isn't quite moisturizing enough for my girls' delicate hair when rinsed out. I don't mind leaving it in their hair since it leaves their hair softer without making it greasy.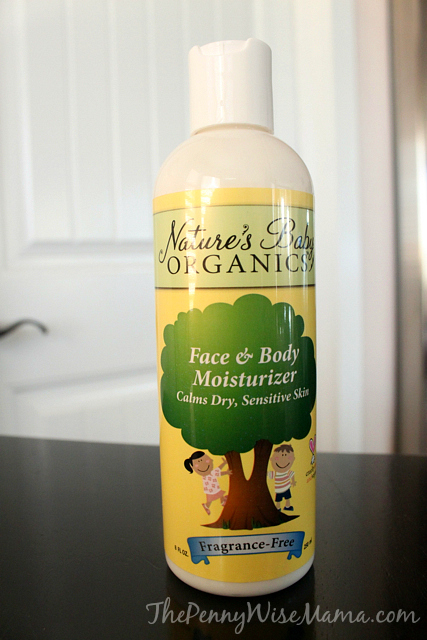 The Face & Body Moisturizer is fragrance free, yet it still has a light floral scent to it. It goes on smooth, leaving skin feeling light and moisturized. The product itself is great, but I am not a huge fan of the scent. I would love if it came in the Vanilla Tangerine scent!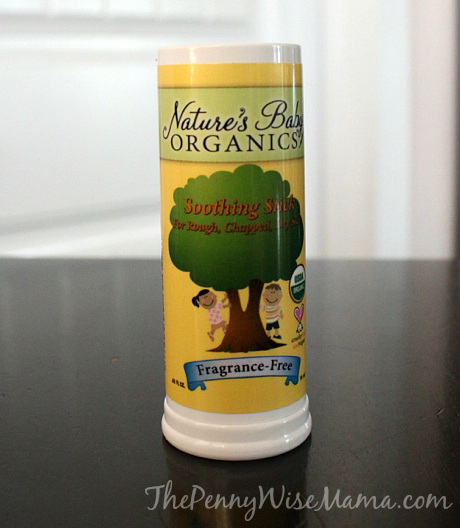 The Soothing Balm is wonderful for treating dry, chapped skin. This has really come in handy now that it's cold season and my kids have runny noses that are red and chapped. It has been very comforting and has quickly started to heal the area. It also works great as an everyday lip balm!
We haven't had to use the Ah-Choo! Chest Rub yet, but I am sure we will appreciate it the next time one of the kids has a cough and/or chest congestion.
I am so glad that we discovered Nature's Baby Oraganics products! I love everything that we have tried and can't wait to buy more. If you are looking for bath and body care products for kids that are not only gentle and safe, but also effective I would highly recommend Nature's Baby Organics!
Buy It
Nature's Baby Organics products can be purchased from retailers such as Target, Sprout's, CVS, Amazon.com, and Diapers.com for around $10 apiece.
Nature's Baby Organics Giveaway
One PennyWiseMama reader is going to WIN a Nature's Baby Organics Prize Pack containing all of the same products I reviewed! Total prize pack has an approximate retail value of $53.
To enter, simply use the Rafflecopter form below. Giveaway ends on 1/23. Open to U.S. mailing addresses only. Must be 18+ to enter. Good luck!