I participated in an Influencer Activation on behalf of Influence Central for Neutrogena. I received samples to facilitate my review and a promotional item to thank me for my participation.
One in five Americans will get skin cancer in their lifetime. I know that all too well.
In high school and college I didn't think twice about sunbathing or using a tanning bed. It was considered beautiful to be tan so that's just what you did. I never used sunscreen because I was afraid it would prevent me from getting tan. It was stupid but I was young and naive.
At the age of 21 I was diagnosed with melanoma skin cancer. I had a mole that started to bother me so I went in to have it checked. My doctor removed it and had it tested. I was shocked when the lab results came back and confirmed it was melanoma. I ended up having to have surgery to remove a larger area of tissue. Thankfully, I had a great dermatologist who was able to get all the cancerous cells out and I have been fine ever since. It was definitely an eye-opening experience that I will never forget.
Now that I am older (and wiser) and have three kids of my own, I am even more cautious about sun exposure. It's especially important in the summer months since we spend so much time outdoors. While we all tan fairly easily, we have sensitive skin that gets irritated by many of the sunscreens on the market. I appreciate that Neutrogena makes suncare products that are specially formulated to work with sensitive skin.
The National Eczema Association has recently awarded its Seal of Acceptance to five Neutrogena Sun products. The five products include:
NEUTROGENA® Pure & Free® Baby Faces Ultra Gentle Sunscreen Broad Spectrum SPF 45+

NEUTROGENA® Pure & Free® Baby Sunscreen Stick Broad Spectrum SPF 60

NEUTROGENA® Pure & Free® Baby Sunscreen Lotion Broad Spectrum SPF 60+

NEUTORGENA® Sensitive Skin Sunscreen Lotion Broad Spectrum SPF 60+

NEUTROGENA® Pure & Free™ Liquid Sunscreen Broad Spectrum SPF 50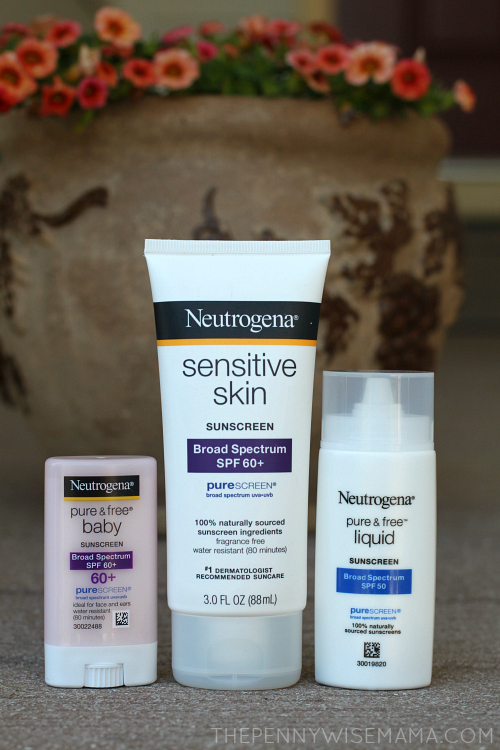 These are great sunscreen options for adults and babies with eczema/sensitive skin. They are safe and protect your skin using naturally sourced sunscreen ingredients. I love using the Baby Suncreen Stick on my kids' faces and ears. It makes applying so much easier and quicker. The Sensitive Skin Sunscreen Lotion is great for applying on the rest of the body. It performs wonderfully and doesn't irriate our skin. The Pure & Free Liquid Suncreen is my personal favorite because it is light and non-greasy. It's perfect for applying under make-up.
I can't express enough how important it is to be proactive about your skin health, as well as your children's. It's a fact that sunburns in children increase the odds of developing skin cancer later in life. As a parent, I encourage you to practice and educate your children about sun safety. Setting an example now will help them develop good sun care habits as they get older.
Neutrogena Sun Care products are available through Walmart both in-store and online. For more information please visit Walmart.com.
Have you tried any of these products? Visit the Neutrogena website to write a review!
This post may contain affiliate links. As an Amazon Associate, I earn from qualifying purchases. Read my full disclosure here.