When we moved into our new home we found out that our trash service also included free recycling. I was super excited about this, because I always felt bad about all the stuff we threw away each week that could have been recycled. Now that we are recycling as much as possible — plastic bottles, cans, cardboard, paper, etc., we have really seen a difference in how much we are keeping out of the landfills. It's actually quite shocking! When we put our trash out now, our recycling totes are overflowing and our garbage can is usually only half full. It's crazy to think that we would have just thrown all of it away before!
To make recycling a little easier, Rubbermaid sent me the Hidden Recycler to try out and review. The Hidden Recycler attaches to the inside of a cabinet door to collect recyclables out of sight and keeps your counters clear. The bag is durable, machine washable, and made of recycled material. Once the bag is full, you simply lift the bag from the lid and cabinet by the handle to take them out to your recycle bin.
Here are some great features of the Rubbermaid Hidden Recycler:
Easy attachment to a cabinet door with hooks included with the product or screws
A convenient handle allows the bag to easily be transported to wherever your recycling is stored for pickup or transport
A 5 gallon bag that holds up to 36 12-ounce cans and can fit a milk jug
The bag has a leak-proof liner and is machine washable to make it easy to clean after any unexpected
spills
The bag is soft-sided allowing for flexibility inside any cabinet
The bag and all packaging is made from recyclable material, and the product is recyclable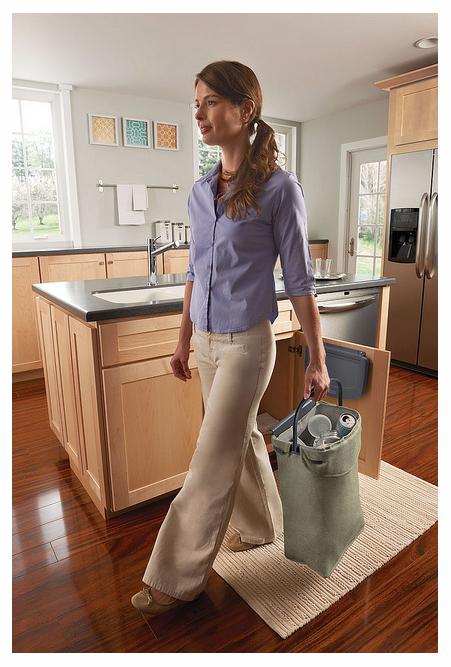 The Rubbermaid Hidden Recycler has made my life so much easier! I was getting annoyed with having cans and bottles on my countertop all the time, and it was such a pain to have to take the recyclables out to the garage several times a day as an alternative. The Hidden Recycler fits right under my kitchen sink, so it's really convenient to just rinse out the bottles, cans, etc. and then place them in the bag. It holds quite a bit, so I usually only have to dump it 1-2 times a week. So far the inside of the bag as stayed really clean, but I like knowing that I can wash it if I need to. I also like that I can hang the Hidden Recycler on my cabinet door with the hooks provided, rather than screw it into my cabinet door.
If you are looking for an affordable and easy way to store your recyclables until you are ready to recycle them, I would highly recommend the Rubbermaid Hidden Recycler. If anything, it will only encourage you to recycle more!
BUY IT
The Rubbermaid Hidden Recycler retails for only $15.99. You can purchase it online at Rubbermaid.com or at a Meijer store near you.
WIN IT
One lucky reader will WIN their own Rubbermaid Hidden Recycler!
To enter to WIN, simply use the Rafflecopter form below. Open to the US and Canada only. Must be 18+ to enter. Giveaway ends at 12:01 AM EST on 4/24. Good luck!