Now that Thanksgiving is over, it's time to focus on what most of us do best this time of year — shopping! I'm sure many of you took advantage of all the awesome Black Friday deals but now it's time to gear up for the next big shopping day of the year — Cyber Monday! I actually prefer Cyber Monday over Black Friday because I'd rather shop online. I hate going out in the cold and dealing with all the crowds of people. Plus, with three kids it's just easier to shop from home. I can browse all of my favorite stores from the comfort of my own home without even getting out of my pjs.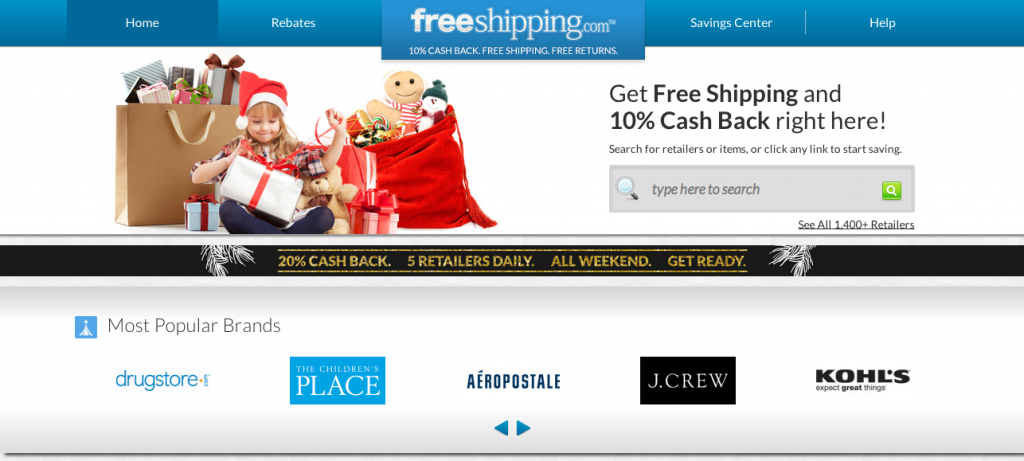 For all of you who love shopping online, I found a great way for us to save money on holiday gifts this year. I just discovered FreeShipping.com, a shopping portal that allows you to earn 10% cash back AND free shipping on your purchases at over 1,000 top retailers, including Walmart, Kohl's, Nordstrom, Best Buy, Gap, Old Navy and more. On top of that, you also get free return shipping and price protection! I'm not sure how I didn't discover this site sooner, but I'm so glad I did because it is going to save me a ton of money!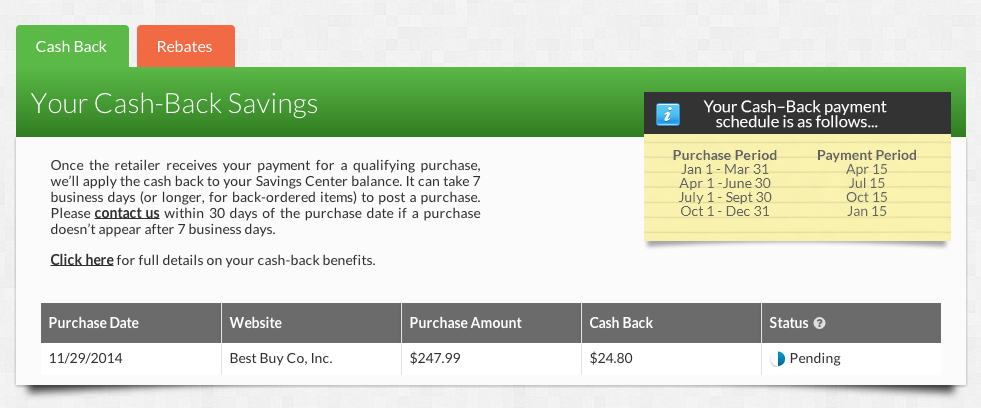 Here's how it works:
1. Create an account at FreeShipping.com. Because you're awesome, use promo code HOLIDAY2014 to get a FREE 30-day trial (the normal membership rate is $9.95/month).
2. Search for a particular retailer to see if it is a participating store. If it is, you can see what offers or coupons are available. Once you are ready to shop, click "Visit Store" and purchase as you normally would.
3. As soon as the retailer notifies FreeShipping.com that your item has shipped, they will apply 10% of the total purchase (minus taxes and other fees) to your Savings Center account.
4. At the end of every calendar quarter, they'll tally up your 10% cash back earning over the previous three months and then send you a check for all your earnings in that time span.
Super easy, right? And who doesn't love getting cash back?!
The 10% cash-back offer is just one of many money-saving benefits available to FreeShipping.com members. Here are some more reasons to love the site:
A search tool that instantly compares the prices of any of over 100 million items sold by their 10% cash back retailers, so members can get the best possible deal.
Coupons that provide free shipping codes and links, as well as other retailer savings offers that members can claim right at checkout.
Shipping Rebates that pay members back if they're charged shipping fees on purchases made through the website.
Return Shipping Rebates that cover the charges if a member ever needs to return any online purchase — for any reason.
Price Protection that pays members the difference in price if they purchase an item and find it advertised for less within 90 days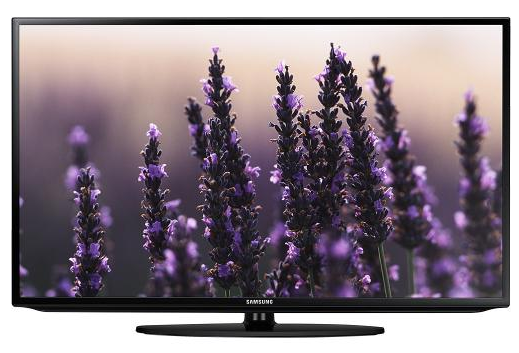 On Black Friday, I used FreeShipping.com to shop online at Best Buy. I ended up buying this beautiful Samsung LED TV and got $24.80 cash back! How awesome is that? I love how easy it is to shop through FreeShipping.com and the cash back they offer is much higher than other sites. I will definitely be using it for all of my holiday shopping!
Earn 20% Cash Back at Select Retailers
As if earning 10% cash back wasn't already amazing, FreeShipping.com is offering 20% cash back at five different retailers per day from Black Friday (November 28) through Cyber Monday (December 1). Some participating retailers include Walmart, Bath & Body Works, Sears, Children's Place, Gap, and Nordstrom.
Before you do any more online shopping, make sure you set up an account with FreeShipping.com and don't forget to use promo code HOLIDAY2014 to get a FREE 30-day trial. It only takes a few minutes and then you will be on your way to earning cash back and free shipping on all of your purchases!
Have you used FreeShipping.com? Which stores do you hope to earn cash back from this holiday season?
I was selected for this opportunity as a member of Clever Girls and the content and opinions expressed here are all my own.