This post brought to you by P.F. Chang's. All opinions are 100% mine.
P.F. Chang's is one of our favorite restaurants to visit on date night. The warm atmosphere, great food, and friendly waitstaff always make for any enjoyable visit. I usually order the same thing every time we go — Lettuce Wraps, Sesame Chicken with brown rice, and a glass of wine — but I am excited to try some items from their new Winter Seasonal Menu.the next we go.
This year, P.F. Chang's is celebrating Chinese New Year with a variety of unique dishes featuring traditional ingredients symbolizing good luck and prosperity. At P.F. Chang's guests are surrounded by a unique, modern environment combining influences of Asian and American cultures evident from the décor through the menu. The new menu also commemorates the year of the horse – a symbol synonymous with P.F. Chang's. Just in time for the Chinese New Year introducing its latest seasonal menu at locations nationwide.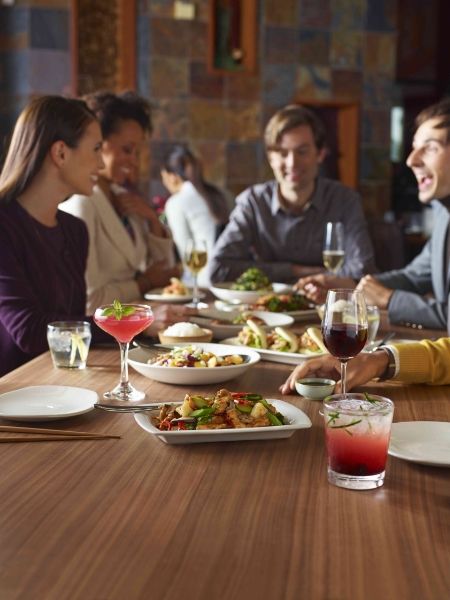 New menu items include:
• Orange Ginger Beet Salad—Sliced red and gold beets mixed with fresh oranges and tossed with honey-ginger dressing, finished with crumbled goat cheese, candied walnuts and daikon sprouts. (Wine Pairing: Frog's Leap Sauvignon Blanc)
• Shanghai Waldorf Salad—Fresh chopped kale, endive, radicchio, crisp apples, grapes, celery, grape tomatoes and candied walnuts tossed in a light miso-lime vinaigrette. (Wine Pairing: Estancia Pinot Grigio)
• Chili Shrimp Bao—Asian-inspired "sliders." Warm, pillowy bao buns filled with Bibb lettuce, chili-marinated shrimp, pickled daikon, carrots and cucumber topped with tamarind-chili sauce. (Wine Pairing: Mer Soleil "Silver" Chardonnay)
• Firecracker Chicken—Savory and spicy hoisin-glazed chicken breast, wok-fired with pineapple, Chinese broccoli, Asian mushrooms, Fresno peppers and dried chilies. (Wine Pairing: S.A. Prum "Essence" Riesling)
• Red Wine and Pepper Braised Beef—Red wine and black pepper sauce wok-tossed with marinated flank steak, sliced potatoes, broccolini, Napa cabbage, grape tomatoes and Fresno peppers. (Wine Pairing: Alamos Malbec)
• Miso Glazed Salmon—Broiled and served with grilled baby bok choy and cool julienne daikon radish in a warm savory broth. (Wine Pairing: Tozai "Living Jewel" Junmai Sake)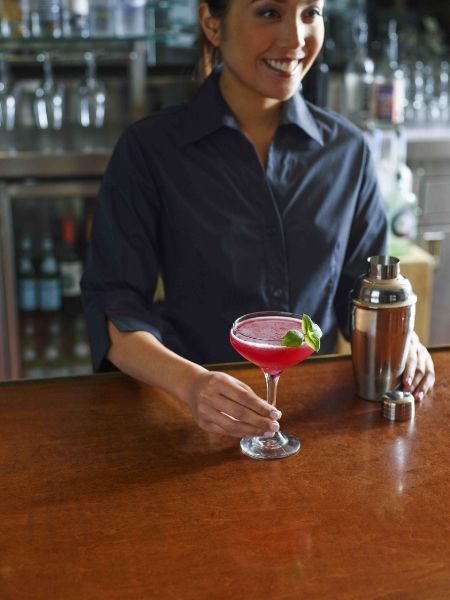 The restaurant is also introducing two new desserts and beverages:
• Chocolate Raspberry Wontons—Handmade, crispy wontons with a creamy chocolate-raspberry filling, dusted with powdered sugar, served with chocolate and raspberry sauces, fresh raspberries and mint.
• Sweet Vanilla Cream Wontons—Handmade, warm and crispy wontons filled with vanilla cream cheese, dusted with powdered sugar, served with vanilla and raspberry sauces and fresh mint.
• Crimson Spritzer—Plymouth Gin and Luxardo Cherry Liqueur with marasca cherries, fresh lime juice and muddled kaffir lime leaves, topped with Mumm Napa Brut.
• Red Goose Martini—Grey Goose Vodka shaken with POM Wonderful pomegranate juice, Thai basil leaves, fresh ginger and lime juice.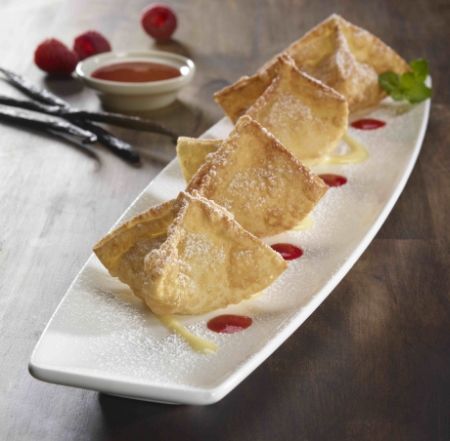 I am huge fan of any type of spicy chicken, so I can't wait to try the Firecracker Chicken. It sounds amazing! The Chocolate Raspberry Wontons for dessert sound incredible as well. And the Crimson Spritzer? Wow! It sounds so refreshing!
Are your taste buds watering yet? I know mine are!
Hurry in to P.F. Chang's to experience the new menu items! Don't forget to print your coupon good for $10 off a $40 purchase before you go.
Make sure you Follow @pfchangs on Twitter and Follow P.F. Chang's on Pinterest to stay up-to-date with current news and promotions!
Which dish are you most excited to try?