I participated in a campaign on behalf of Mom Central Consulting sponsored by Publishers Clearing House. I received a promotional item as a thank you for participating.
Last month I shared about an awesome giveaway from Publishers Clearing House, a trusted name in big prize sweepstakes, and now I am happy to be able to share another one with you!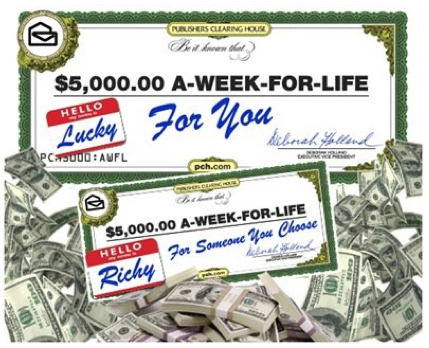 Publishers Clearing House (PCH) recently announced that their newest giveaway, "Win $5,000 a Week Forever," will award one lucky winner $5,000 a week for the rest of his or her life! And the best part is the "Forever" Prize lets you leave a legacy for your loved ones. If you win, you will receive $5,000 a week for your life, then after that, you can choose for someone to receive $5,000 a week for his or her life! How awesome would that be?!
So what are you waiting for?
Enter to WIN this amazing prize today! Winner will announced August 29 on NBC.
Special thanks to Publishers Clearing House for sponsoring today's discussion.