A little over a week ago I had the pleasure of attending a Safeway blogger event to learn all about the new Safeway Just For U Program. The program itself is not entirely new, but they have added and changed some things to help you save even more on your grocery bill. I have to say that I am very impressed so far and I look forward to sharing the program with you!
The Just For U Program is divided up into three categories — Coupon Center, Personalized Deals, and Your Club Specials. You can access the online savings center on the Safeway.com website.

Coupon Center: This is where you can add digital coupons to your Safeway Club Card. This feature has been around for awhile, but now it's even easier to use. The real advantage is you no longer have to take the time to clip paper coupons!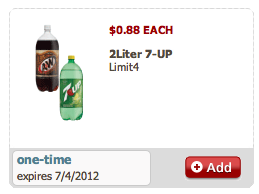 Key features of the Coupon Center:
You can stack a manufacturer's coupon and a price point (no price point + price point). For example, if you see a digital coupon for $1.99 for a box of Honey Nut Cheerios, you would also be able to stack a manufacturer's coupon with it. However, if you had a digital coupon for $1 off Honey Nut Cheerios, you wouldn't be able to stack it with a manufacturer's coupon.
If you have a digital coupon and a paper coupon, the Safeway system knows which is a better coupon and will give you the better deal. It will save your digital coupon if your paper coupon is better and vice versa.
Coupons have to be added to your card in order to redeem them.
Personalized Deals: This is where you can add deals that are customized to you based on your shopping history. Do you typically buy a lot of organic items or produce? Well, guess what? Now you will find savings on items that you wouldn't normally find coupons for! How cool is that?!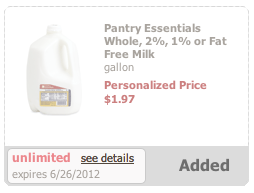 Key Features of Personalized Deals:
Almost all of your personalized deals have unlimited redemptions (you could redeem them everyday if you wanted to). The only time you may not be able to redeem a deal more than once is if it's a free item or an item that is new to the market.
Everyone's personalized deals are different. It's all based on your shopping history and deals are catered to your likes.
Just like the coupon center, you have to add the deals to your card in order to redeem them.
Your Club Specials: This is where you will see items that are currently on sale (similar to the weekly ad). You don't have to do anything to get these deals, other than use your Safeway Club Card when you checkout.
My favorite features of the Just For U Program:
I LOVE that there is a Just For U app for iPhone and Android devices (download it for free from the App store or Google Play). The other day when I went shopping I had my app open the whole time and I was able to add a couple of digital coupons to my card while I was in the store!
I like that you can create a shopping list. When you add coupons or deals to your club card, you are also given the option to add them to your "list." Then you can either print off your list before you head out shopping, or open your app and check off the items you are planning on buying as you shop!
The personalized deals feature is amazing. The other day I had deals on bananas and milk and thought that was pretty awesome! I love the fact that I can now save on the things I buy regularly. We buy a lot of produce, so this will be a great way for us to save on foods that we wouldn't normally find coupons for.
Let's face it — not too many of us have time to go through all of the newspaper ads each week and spend hours clipping coupons and looking online for ad match-ups. The Safeway Just For U Program is perfect for those of you who want to save money, but don't have a lot of time.
Safeway has done a great job implementing this program, so head to your local store and check it out! They have tables set up and plenty of employees ready to help you get started. Plus, when you register online or in the store you will receive a FREE dozen eggs!
If you have any questions, or you want to read more about the program check out the Just For U FAQ.
This post may contain affiliate links. As an Amazon Associate, I earn from qualifying purchases. Read my full disclosure here.