'Tis the season for holiday shopping! As you shop for all the special people in your life, do you find yourself discovering items you want to buy for yourself? I know I do, especially when I see a great deal! All the people in your life deserve something special this time of year. But you know what? You do, too! So why not treat yourself to something amazing? This post is sponsored by Mirum. All opinions are my own.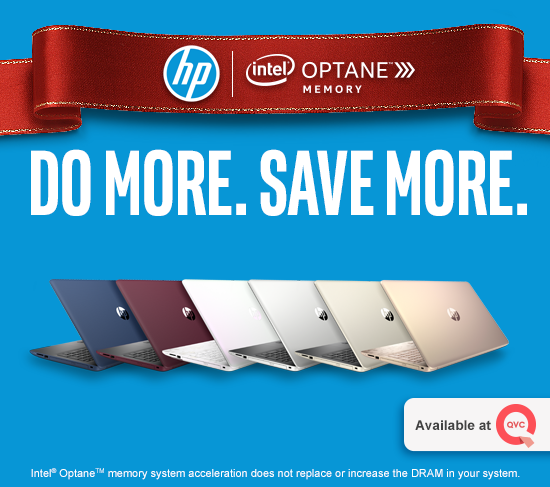 Now is the time to treat yourself to an HP PC featuring Intel® OptaneTM Memory. This stylish laptop offers reliable performance and long-lasting battery life. It learns your habits and uses storage acceleration, so you can do more.
Whether you need help organizing your schedule, running your business, or keeping in touch with loved ones, an HP PC will help you do it fast. It's the perfect gift, at a perfect price at QVC.
HP PC featuring Intel® OptaneTM Memory
Key Benefits
Short boot times
Fast app launches
Responsive performance
Wait

less and do more with your HP PC and Intel® OptaneTM memory that adapt to the

way you use your notebook for an incredible

personalized experience
Specs
8th Gen Intel® CoreTM i5 processor with Intel® OptaneTM Memory
8GB RAM, 2 TB Storage
Touchscreen
Windows 10 included
Backlit keyboard
HP PC Black Saturday Deals on QVC
→ 15" HP Laptop powered by Intel® OptaneTM Memory:
$599 without Microsoft Office
$649 with Office
→ 17" HP Laptop powered by Intel® OptaneTM Memory
$649 without Microsoft Office
$699 with Office
Choose from 6 colors: Natural Silver, Pale Gold, Twilight Blue, Maroon Burgundy, and QVC-exclusive colors Iridescent Rose Gold and Iridescent White.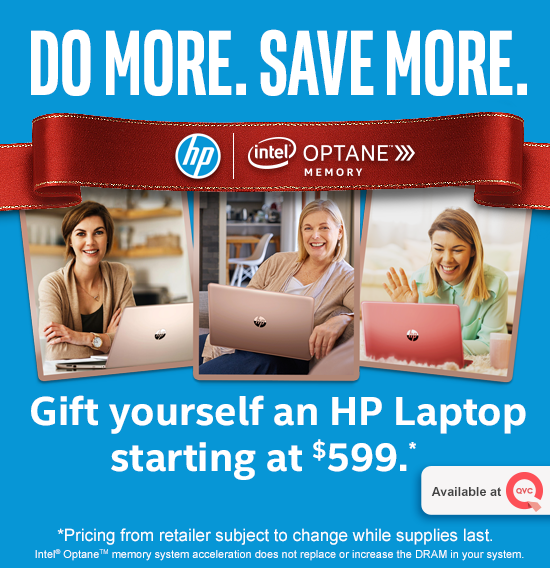 Right now QVC is also offering 6 months no interest and free shipping when you pre-order a laptop on QVC.com between November 17-24.
Pre-order your HP Laptop powered by Intel® OptaneTM Memory today and make sure you watch the QVC Live event on 11/24 for a great deal before it sells out!
*Intel® OptaneTM memory system acceleration does not replace or increase the DRAM in your
system.