I'm going to let you in on a little secret…
I don't cook dinner every night.
There. I said it. And with no shame.
I know you're probably surprised. I mean, I share all these recipes, so I must be making amazing home cooked meals every night, right?! Nope.
I may work from home, but that doesn't mean I have time to cook a 5-course meal every night. There just isn't enough time. Like many of you, my family is busy. Every night we have something going on — sports practice, homework, youth group, school meetings…the list goes on.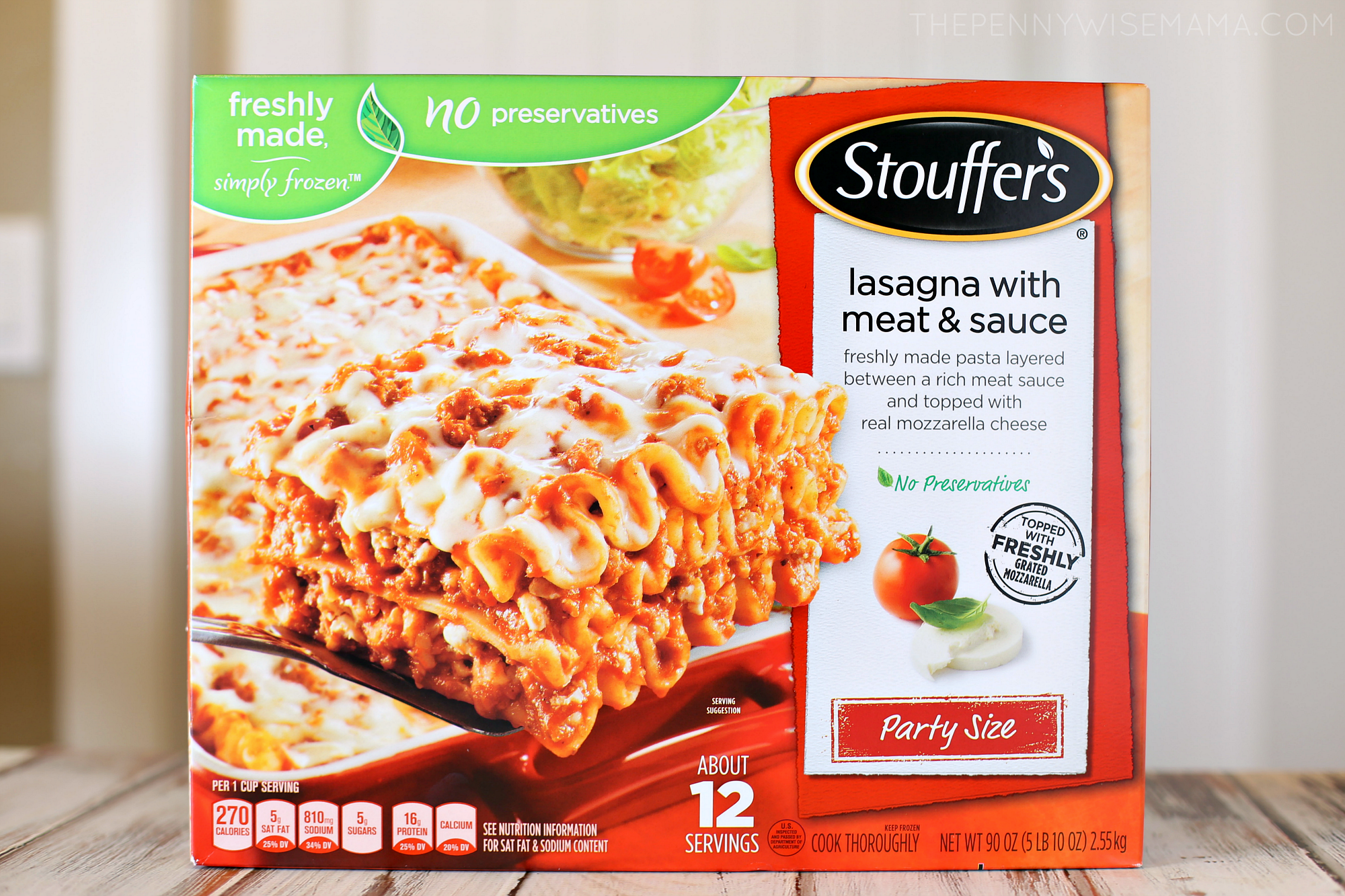 With the holidays right around the corner, I know our days will be even busier, which is why I am thankful for Stouffer's frozen family meals. Not only are they easy and convenient, they are also made with premium ingredients. Simply pop one in the oven and you have a great base to build a balanced meal around.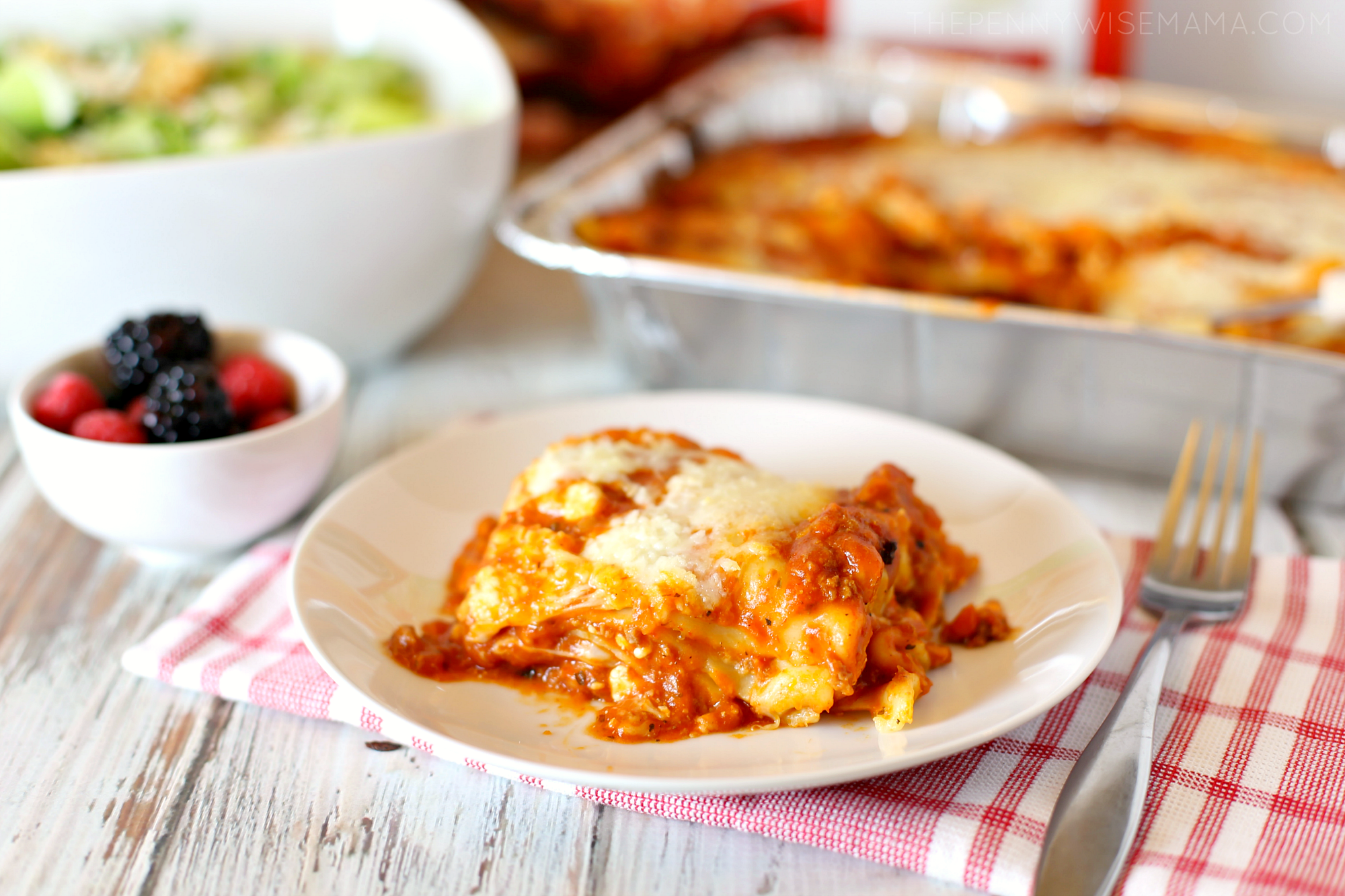 Stouffer's Lasagna with Meat & Sauce is one of our favorite meals from Stouffer's. It's a classic that we have been enjoying for years and now it contains fewer ingredients. Featuring freshly made pasta layered between a rich meat sauce and topped with real mozzarella cheese, it is delicious and kid-approved!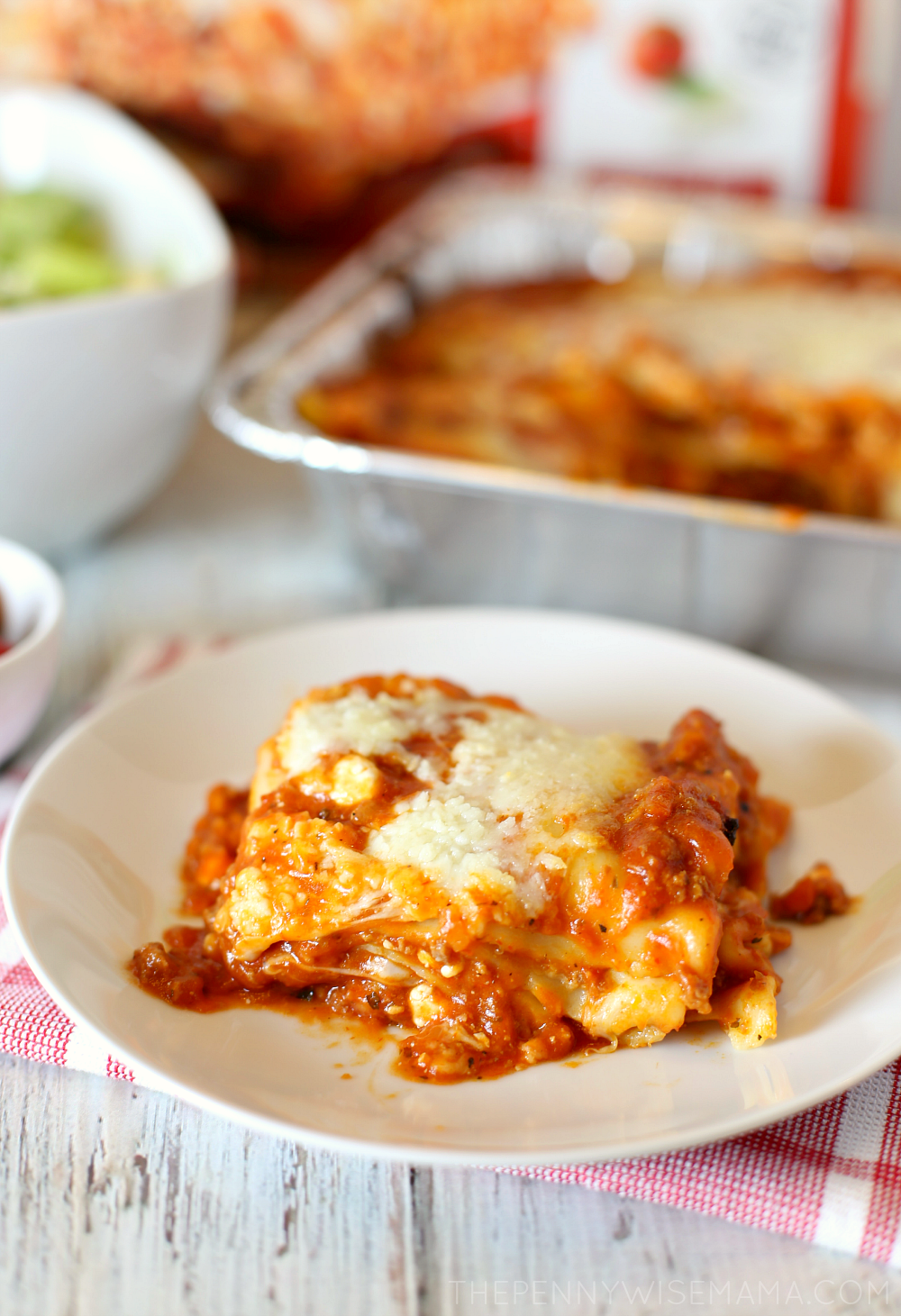 As part of a Nestlé educational campaign called Balance Your Plate, Stouffer's is helping families create delicious and nutritious meals that incorporate both frozen and fresh foods.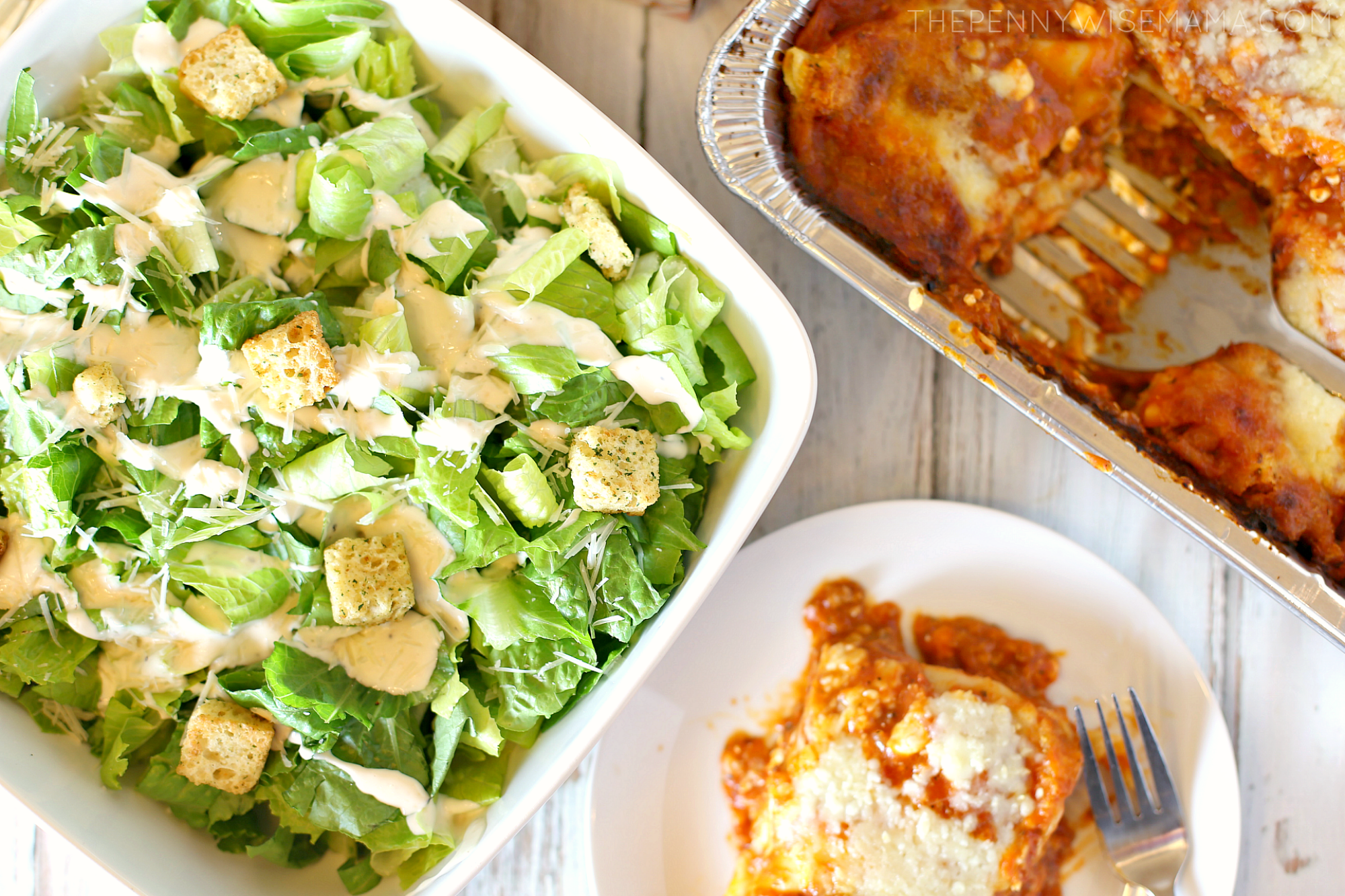 Making sure that my family eats a balanced meal is important to me, so I always pair our lasagna with fresh veggies, such as Caesar salad. You can buy a Caesar salad kit at the grocery store, but is so much cheaper to make it yourself. It's super easy too. All you need is romaine lettuce, parmesan cheese, Caesar dressing and croutons if desired. Combine it all in salad bowl and then serve. Dinner couldn't be easier!

Easy Caesar Salad
Author:
The PennyWiseMama
Ingredients
3 romaine hearts, chopped
¼ cup creamy Caesar dressing
2 tbsp grated parmesan cheese
handful of croutons
Instructions
In a large bowl, combine romaine and dressing. Toss until romaine is well coated.
Sprinkle parmesan cheese and croutons over the top and serve.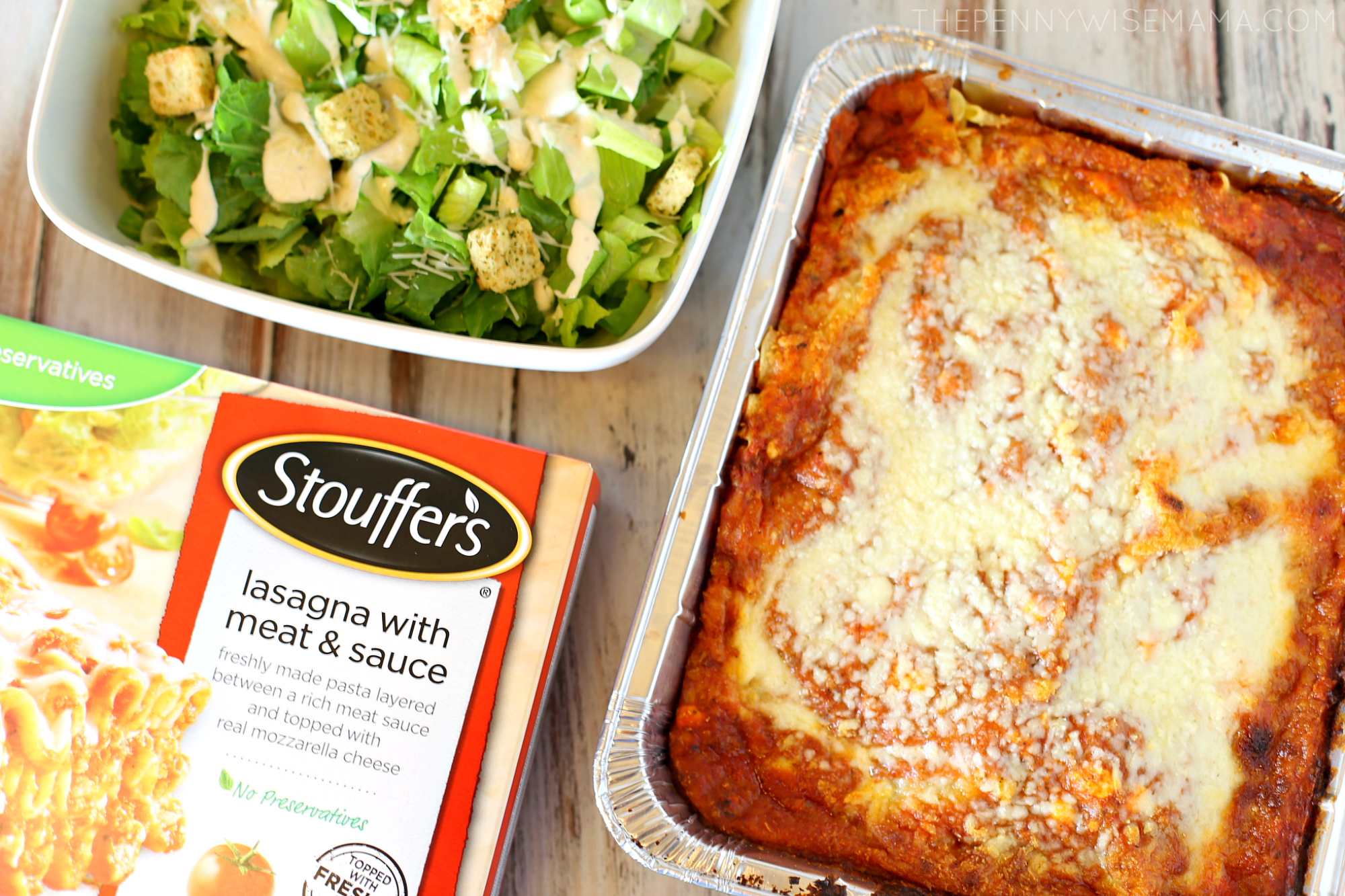 Stouffer's has recently announced its new "Kitchen Cupboard" commitment. This new initiative focuses on shortening and simplifying recipes that only include ingredients that consumers can recognize and can find at home, like vine-ripened tomatoes, freshly made pasta, and real mozzarella.
You don't have to compromise flavor for nutrition when turning to convenient options that fit your busy lifestyle. By incorporating both fresh and frozen foods, you can create a balanced meal that your whole family will enjoy!
Have you tried Stouffer's frozen meals? Which one is your favorite?
This post is in collaboration with Balance Your Plate and Stouffer's. As part of the collaboration, I received product and incentives in exchange for participating in the program.