If you've been reading my blog for awhile now, you've probably caught on to the fact that my twin girls are obsessed with princesses. They love anything and everything related to princesses! I wasn't surprised when one of my girls asked to be Tinker Bell and the other asked to be Belle for Halloween. I decided to start our costume search early, since there's always so many variations of costumes to choose from and I knew it would take awhile to pick our favorites. Thankfully, we were able to find a super cute Tinker Bell costume, as well as a beautiful Belle costume from BuyCostumes.com!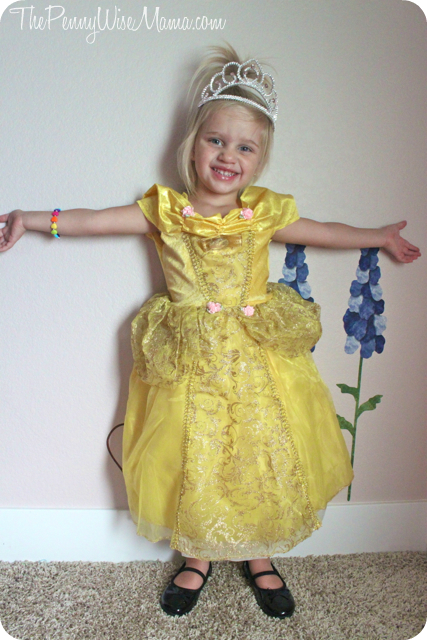 After browsing around BuyCostumes.com for a Belle costume, we finally decided on the Belle Deluxe Costume. It looked like it was made a little better and had more detail than the other ones we saw. Since the girls will be three next month, I decided to go with the Toddler (3T-4T) size.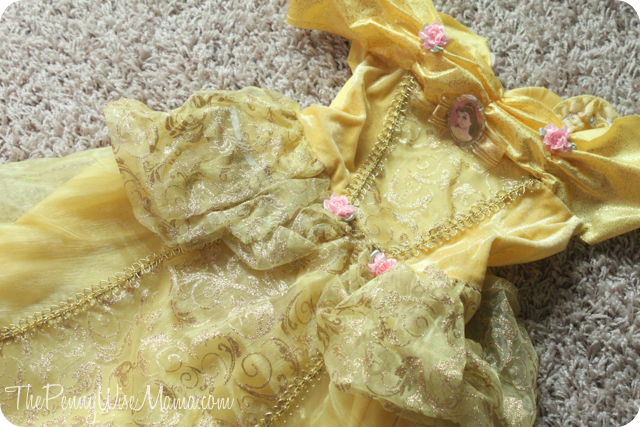 The Belle Deluxe Costume features a yellow dress with off-the-shoulder sleeves and lacy tank straps, a sparkle print overlay and ruffled skirt, and a character cameo. Also included is a gold matching headband, however, my daughter is going to wear her princess crown instead.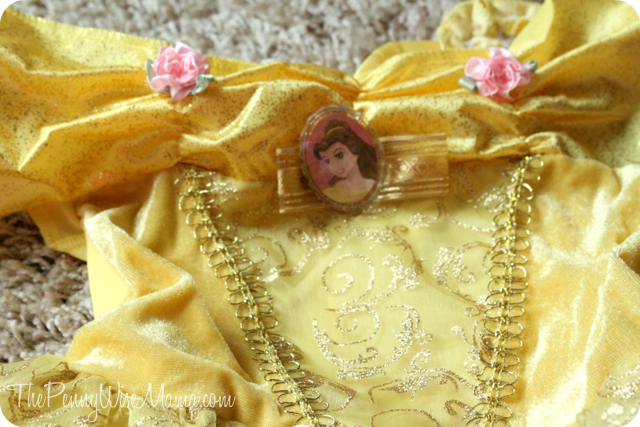 We are very happy with this costume! It is much nicer than the other princess costumes we have purchased. The materials are better quality and the overall workmanship is better. I am sure my girls will get lots of use out of it in the next year! The only thing I don't like about it is my daughter complains that it is itchy. It will probably be cold here on Halloween, so I will just have her wear a long sleeve shirt underneath and it won't be an issue.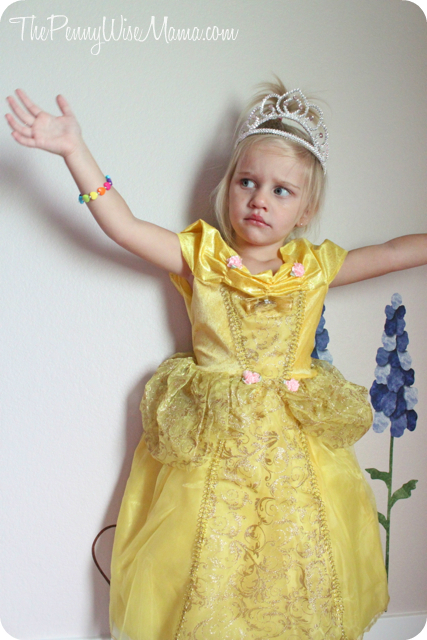 As far as sizing goes, the Toddler (3T-4T) fits my average height and weight 2.5 yr old daughter perfectly right now, with some room to grow. Considering that she will be three next month, I think this costume runs pretty true to size. It should still fit in another year, but it might be tight. If your child is close to the cutoff size or bigger than average, you might want to order a size up.
If you are looking for quality costumes, I highly recommend purchasing from BuyCostumes.com. They have hundreds of costumes to choose from! They have sizes sizes ranging from baby to adult, so you can order costumes for your whole family right in one place.
Buy It
The Belle Deluxe Costume can be purchased from BuyCostumes.com for $39.99.