My twin girls have been obsessed with princesses and fairies for awhile now, so it didn't surprise me when one of them asked to be Belle and the other one asked to be Tinker Bell for Halloween. Usually I wait until the last minute to get costumes, but this year I made sure we started early. I knew the hardest part would be deciding which costume to get, since there's usually so many different variations to choose from. Thankfully, we were able to find a beautiful Belle costume, as well as a super cute Tinker Bell costume from BuyCostumes.com!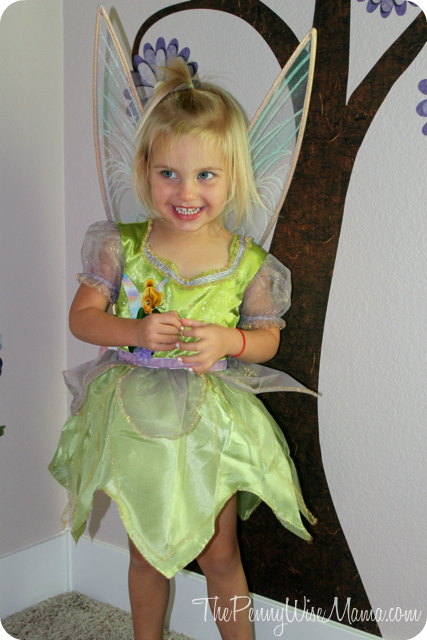 After browsing around BuyCostumes.com, we finally decided that the Tink and The Lost Treasures Classic Costume was our favorite Tinker Bell costume. Since the girls will be three next month, so I decided to go with the Toddler (3T-4T) size.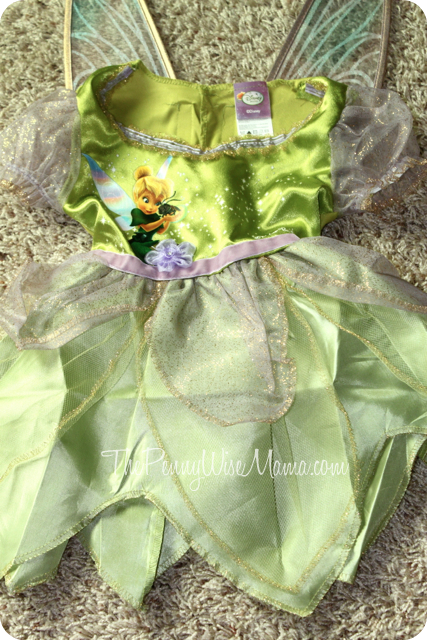 The Tink and The Lost Treasures Class Costume features a green dress with purple sparkle tulip skirt, purple puffy sleeves with green trim, Tinker Bell cameo, purple belt with purple rose buckle and transparent detachable wings with purple trim. Isn't it adorable?!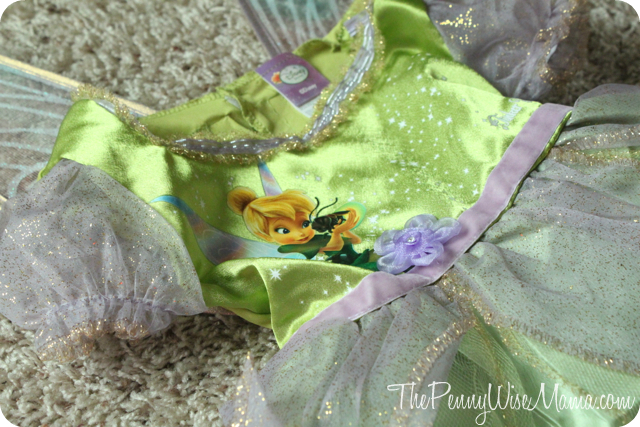 We are very pleased with the quality of the costume. It looks just like we expected it to look and it seems to be well-made. A lot of costumes are itchy and flimsy, but this one is not. I can see my daughter outgrowing it before she wears it out. The only thing I don't like about it is the wings are a little too heavy for the costume. They attach to the back of the costume with velcro, but the velcro isn't quite strong enough to hold them up. They end up falling backwards after a couple of minutes of wear. It's not a deal breaker (in my opinion), but something that could be improved.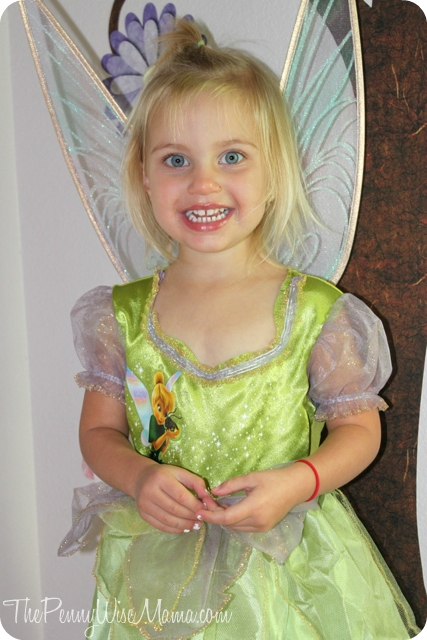 As far as sizing goes, the Toddler (3T-4T) fits my tall and skinny 2.5 yr old daughter perfectly right now. It is a little loose in the chest, but as far as length goes, it is just right. If she gets any taller, it will be too short. Considering that she won't be three until next month, I think that this costume runs a little small. If your child is older is close to the cutoff size or bigger than average, I would recommend going a size up.
Overall, we are very pleased with the Tinker Bell costume, and would highly recommend purchasing from BuyCostumes.com. If you are in need of a costume for Halloween, they have hundreds to choose from! They have sizes ranging from baby to adult, so you can order costumes for your whole family right in one place.
Buy It
The Tink and The Lost Treasures Classic Costume can be purchased from BuyCostumes.com for $24.99.